Common wisdom may indicate that buying a gift for your favorite musician is practically effortless. After all, there are abundant goodies available—and musicians love gear—so what could go wrong?
Actually—a lot. Finding the supremely perfect gift for a musician can be an activity fraught with anxiety and angst. For example, strings seem like an easy choice for a guitar player. They are always breaking them, and numerous articles attest one of the simplest ways to improve guitar tone is to change strings regularly. Unfortunately, most guitarists are extremely picky about string gauges, so you don't want to drop a .008 set on a player who digs a .011 set.
Then, there are formulation considerations. Does your guitarist play electric or acoustic guitar, or both? Do they prefer coated, titanium, stainless steel, pure nickel or cobalt strings for electric guitar, or polymer coated, bronze, phosphor bronze, brass and so on for acoustic guitar?
Likewise, drum sticks seem like a gift every drummer would love. But, again, does your groove master grip a 7A, 5A, 3A or 2B model? Is maple, birch, hickory or oak their stick composition of choice? Do they select nylon or wood tips, and are those tips fashioned in a barrel, acorn, ball or teardrop shape?
As you can see, whether you want to drop a lovely present on a player for his or her birthday, the holidays or simply to recognize how much you appreciate them in your life, the choices ain't as easy as you might think. So, let us help.
We've assembled a gift guide for most every musician that includes all-purpose gear that will make them smile, but won't prompt them to return something so specific that they can't use it—such as the wrong strings or drum sticks.
Table of Contents
Gift Ideas for Guitarists and Bassists
Gift Ideas for Drummers
Gift Ideas for Keyboard Players
Gift Ideas for DJs
Gift Ideas for Producers and Home-Recording Musicians
Gift Ideas for Gigging Musicians
Gift Ideas for Music Lovers
Need More Hints, Help and Clues?
Gift Ideas for Guitarists and Bassists
Although guitar and bass players tend to trade friendly taunts at times, the two instrumental groups often share enthusiasm for similar gear categories. Adventurous bassists aren't afraid to plug into guitar pedals, for instance, and everyone can use cables and maintenance kits.
JHS Pedals 3 Series
There's one thing you can always be sure of—pedal maniacs are never finished switching out stompboxes, adding and subtracting new and unique sounds on their ever-expanding pedalboards. Even if they already own, say, a distortion pedal, they will audition different distortion boxes to expand their tonal options. The JHS 3 Series emulates popular vintage effects and builds them into an intuitive and easy-to-use three-knob design with an added parameter switch. This made-in-the USA collection serves up all the hits—delay, compression, chorus, reverb, fuzz, overdrive, distortion and more—and are genuine boutique pedals from a respected manufacturer, and all at a price far below what boutique stompboxes typically go for.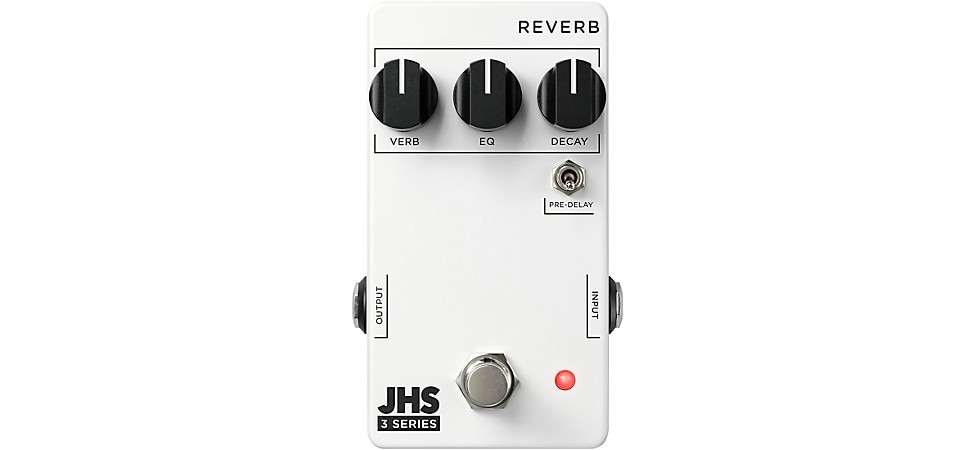 Explore more top-selling guitar pedals.
Fender Mustang Micro
If you know a bassist or guitarist, you also know their instruments seldom leave their hands. Obsessed players are always practicing, rehearsing parts or working out riffs. Fuel their passion with the Fender Mustang Micro—a teeny-tiny headphone amp that plugs right into a guitar or bass and serves up realistic amplifier tones and effects. Guitarists can call up emulations of Fender, EVH, Marshall, VOX, Bogner and other amps, and bassists can select a pristine, clean sound (if that's what they want) with a studio-preamp simulation. This go-everywhere tone machine will likely never leave their gig bag.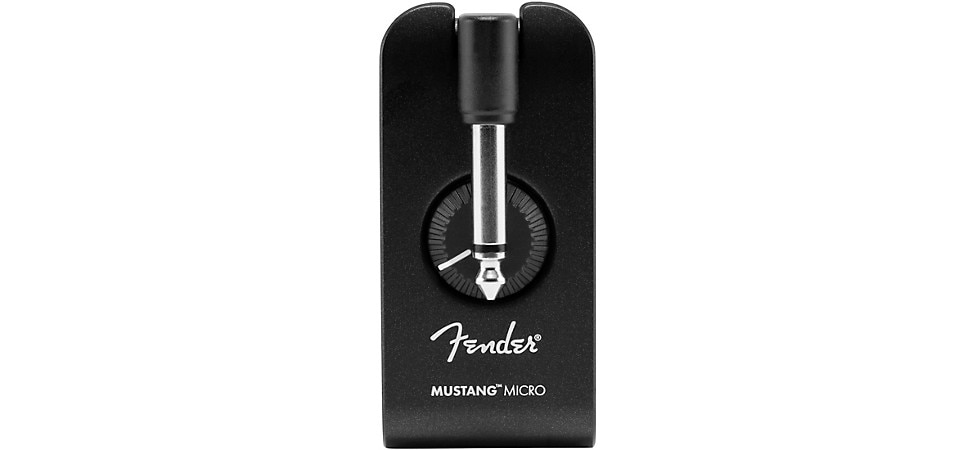 Explore more highly ranked headphone amps.
Dunlop System 65 Guitar Maintenance Kit
Much like a sharp, modern haircut, guitars and basses always need maintenance. Constant playing takes its toll on necks, fingerboards and bodies, so having protection and preservation paraphernalia at hand can keep an instrument looking and playing great. The Dunlop System 65 kit comes to the rescue with polish, body gloss, fingerboard cleaner and conditioner, string-saver cream and two polishing cloths. This is a gift that savvy players will carry with them all the time to freshen up their guitar or bass before gigs, rehearsals and recording sessions.
Explore more essential instrument-care products.
Lava Retro Coil 20' Cable
Few things are as vintage cool as evoking Jimi Hendrix playing Woodstock—or Dee Dee Ramone at CBGB—by plugging into an amp with a coiled instrument cable. However, the Lava Retro Coil isn't just about nostalgia. The USA-made cable also delivers world-class sonic performance, excellent RF rejection and extreme durability. In addition, the 20' length provides ample freedom to perform rock-star moves, such as dashing across stages, jumping onto drum risers and leaping into the air. But even players who tend to be frozen in one spot will love your gift, because everyone needs at least one or two spare cables.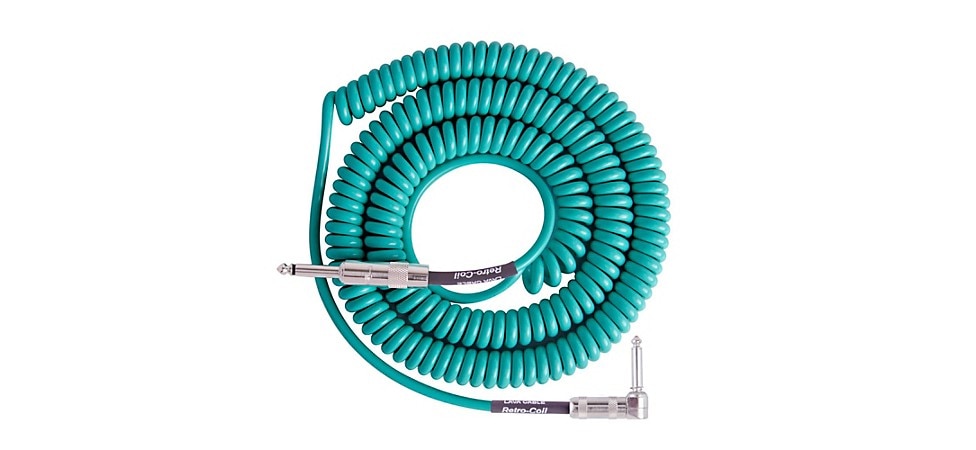 Explore more high-quality instrument cables.
Fender Stratocaster Bamboo Cutting Board
"Cooking" can mean preparing food, or it can refer to a player spewing hot licks. Here's an opportunity to give a musician who does both, a Fender Strat cutting board to rock up their kitchen. Made from 100-percent bamboo, these boards are more durable than most other hard woods, making them perfect for getting your "chops" together.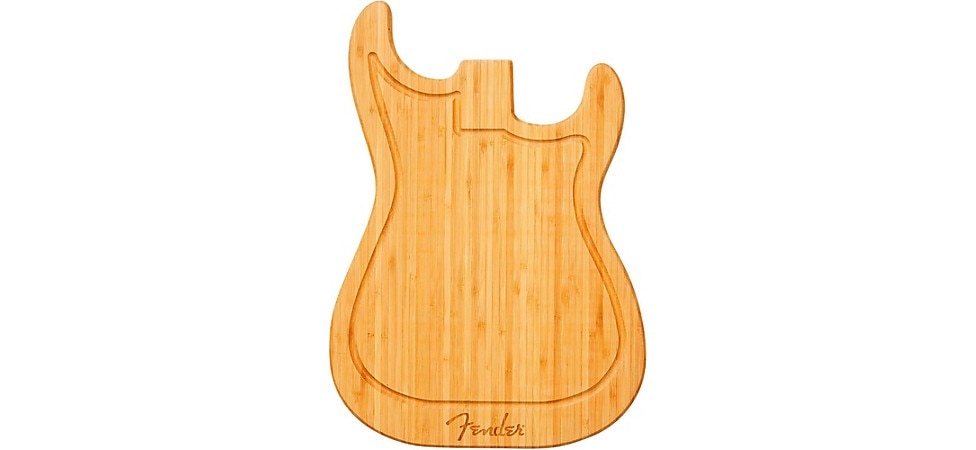 Explore more fun and useful home furnishings and accessories.
Gift Ideas for Drummers
Unless you know precisely which brands and models a drummer truly favors, it's a good move to stay away from buying them sticks, drum heads, cymbals, hardware and other items of personal choice. Here are some goodies that should make great gifts for all drummers at any time.
Vic Firth Double-Sided Practice Pad
Practicing rudiments, dynamics and timing is essential for every drummer, no matter what style of music they play. However, it's not always feasible—or desirable—to work out on a full kit. That's why a practice pad is an essential rehearsal tool. They are portable, quiet and, because they focus attention on one pad (there are no toms and cymbals to offer distractions), they distinctly expose any issues with a drummer's technique. The Vic Firth Double-Sided Practice Pad offers a soft-rubber side that feels just like conventional drum heads, and a harder side with a quick rebound for technical workouts. It fits easily on a lap, desk, chair or snare stand for comfortable practicing.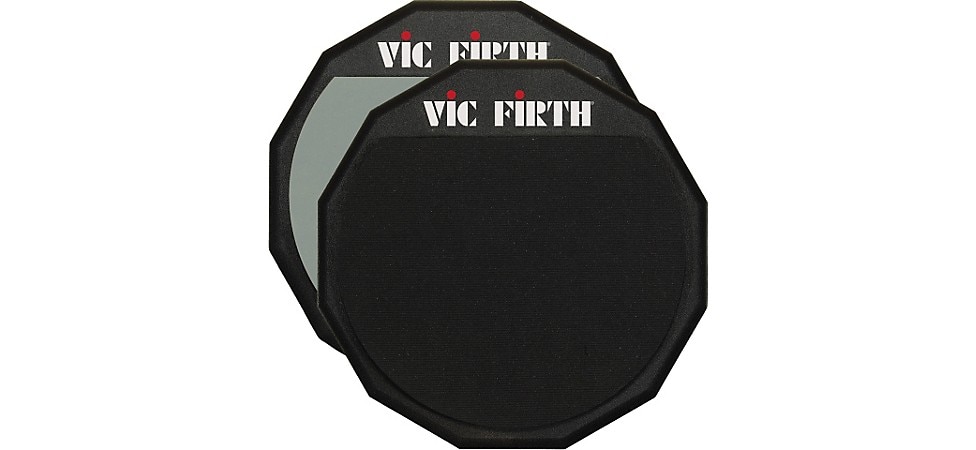 Explore more top-rated practice pads.
RTOM Moongels
The infuriating clatter of ringing tom and snare heads can seriously trip up a drummer's performance mojo. In many cases, a player will furiously search for a drum key and attempt to swiftly tune out the ring between songs, or derail a soundcheck or band rehearsal by stopping to deal with the problem. Happily, RTOM Moongels are miracle workers. Plop one atop a tom or snare head, and offending resonances are miraculously diminished or outright terminated. It might take a second to find the right position on the head, or require two or more Moongels to tame a problematic ring, but the solution is almost immediate. Moongels are easily removable and reusable, and they won't harm the surface of drum heads. As these are gig savers that every drummer should store in their stick bags, you can consider Moongels a gift that keeps on giving.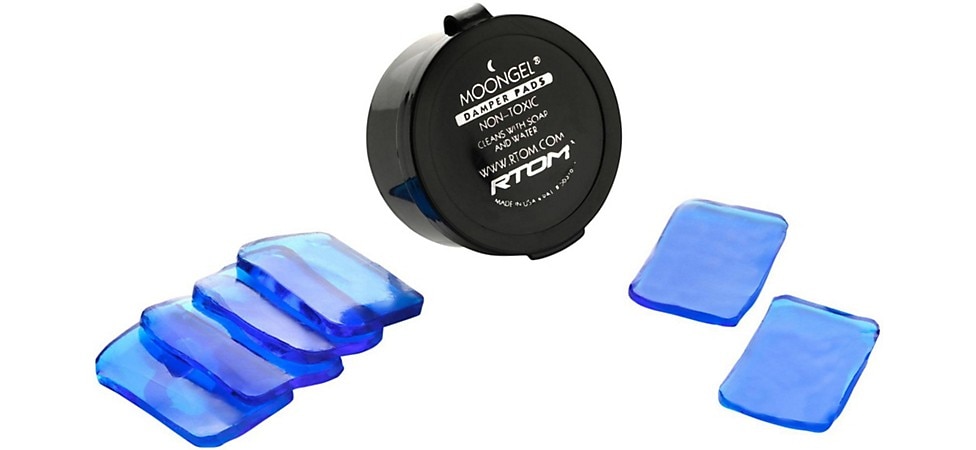 Explore more essential drum damping and muffling solutions.
BOSS DR-01S Rhythm Partner Drum Machine
Jamming with other percussionists helps drummers expand their stylistic horizons, get comfortable with odd time signatures and strengthen grooves. But it's not always possible to find available players or invite them over for raucous apartment concerts. But you can ensure a drummer always has virtual percussionists on call by giving them the BOSS DR-01S. This portable, battery- or AC-powered drum machine includes realistic and natural sounds (congas, shaker, tambourine, cajon, handclaps and more), a bevy of beats and styles, and an onboard metronome for locking down tempos. Everything a drummer needs to jam is in the box, and as the DR-01S can be plugged into an amp or sound system, it can also be used to add percussion parts to a live performance.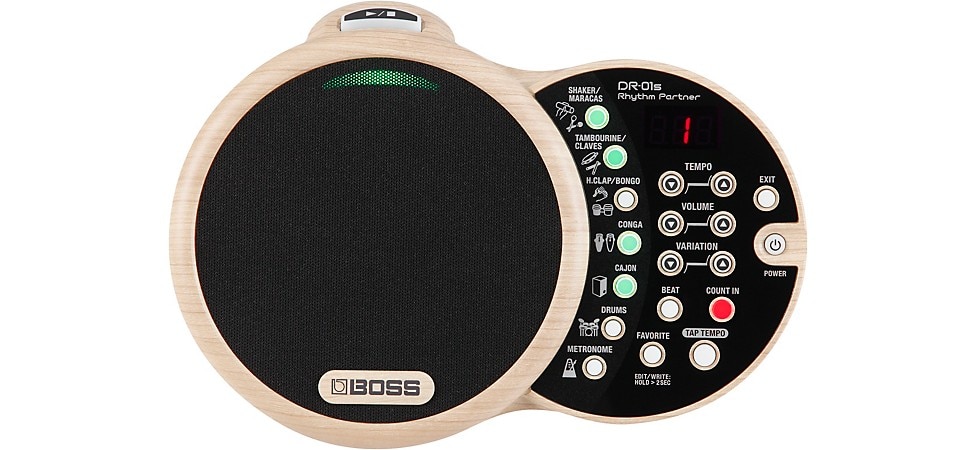 Explore more top-selling drum machines.
Gift Ideas for Keyboard Players
Whatever instrumentalist you are seeking to surprise with a gift, there are a myriad of options to wade through that can be confusing and frustrating. Keyboardists, for example, can be presented with digital pianos, synthesizers, tons of accessories and a vast assortment of software and plug-ins. We've cut through some of the product possibilities by offering three suggestions that should delight all keyboard players.
Yamaha PSR-F51 Bundle
The Yamaha PSR-F51 is marketed as a starter keyboard, and it is, but its 61 full-sized keys, light weight (7 lb.) and battery-power option also make it an excellent portable model for songwriters and buskers. However, the PSR-F51 is definitely aimed at beginning keyboardists, and the included Yamaha Survival Kit makes starting out easy and fun.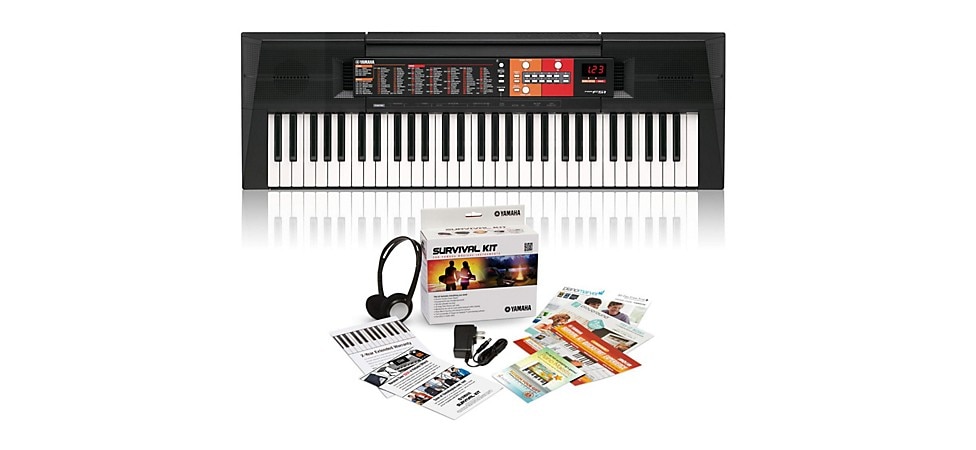 Explore more player-approved portable keyboards.
On-Stage KPK6520 Keyboard Stand/Bench Pack With Sustain Pedal
This bundle includes three crucial accessories for a keyboardist on the go, as well as for anyone setting up a compact and easily moveable keyboard/rehearsal space at home. This On-Stage package includes a single keyboard stand, a bench and a universal sustain pedal.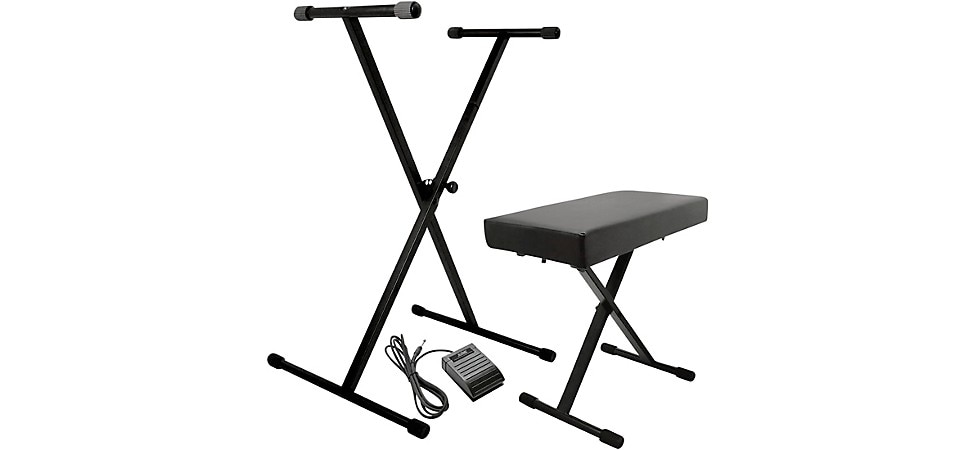 Explore more gig-critical keyboard accessories and hardware.
Moog Mavis Monophonic Analog Synthesizer
Here's the keyboardist equivalent of giving a teenager a massive Star Wars LEGO set. The Moog Mavis is a DIY synthesizer kit that you build yourself. Any skill level can assemble the Mavis—no soldering is required—so even beginning keyboard players shouldn't be intimidated by the project (We're not sure the same can be said of the LEGO Millennium Falcon build). This is a gift that not only delivers a cool monophonic keyboard from one of the most famous vintage synth brands, but also serves up the joy (and education) of digging into circuits and hardware.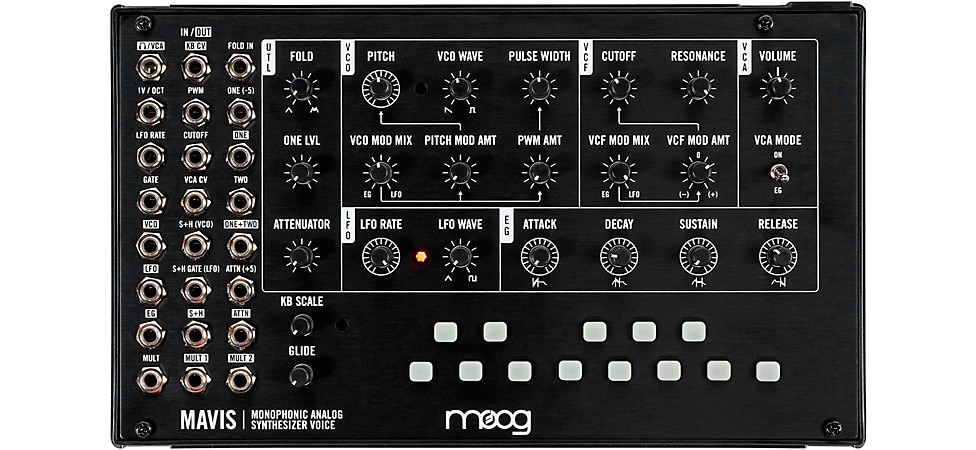 Explore more industry-leading synths.
Gift Ideas for DJs
Most DJs need to fastidiously assert their style and individuality to carve out a niche in the dance community. So, it's tough to make cookie-cutter gift selections, as not all vinyl, software or stage lights will work for every DJ. Here are some useful products that won't diminish an artist's uniqueness.
Serato Control Vinyl 2.5
Perhaps you know a DJ who has been using digital software to get dance floors pulsing, but who now wants to gain some turntablist skills. Serato Control Vinyl works with the company's DJ software, so that beat matching, cueing, scratching and other techniques can be manipulated with the 12" vinyl record. Control Vinyl comes in several fabulous colors, and the 2.5 series offers more precise tracking and improved resistance to wear and tear. The system lets artists deploy the advantages of digital while being able to rock it like an old-school vinyl DJ.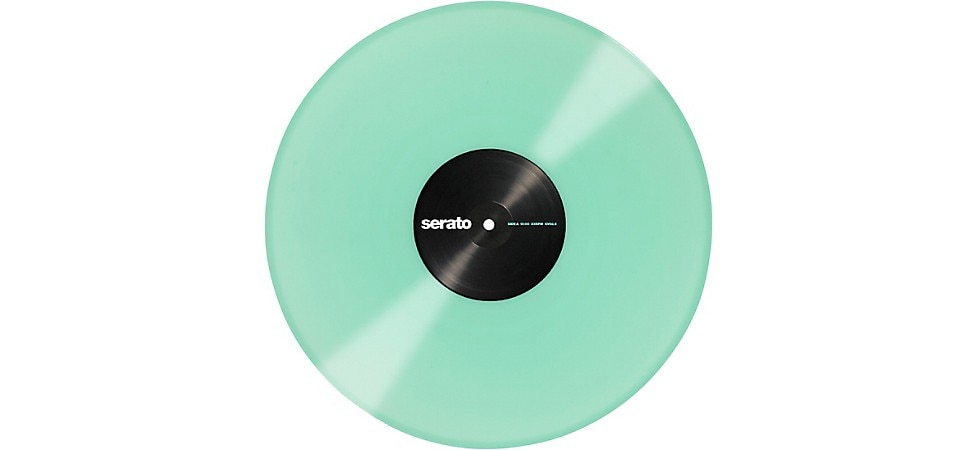 Explore more essential DJ products.
Glowtronics Glow-in-the-Dark Color Minded DJ Slipmat
Add some more sizzle and smiles to a DJ's gig by giving them a Glowtronics Glow-in-the-Dark slipmat. The visual effect is striking, multi-colored and radiant, but these slipmats are not just for show. The glazed underside produces smooth motion for scratching and other techniques, and ribbed fibers on the top of the mat actually help cleanse vinyl records during performances. Your gift includes one pair of slipmats.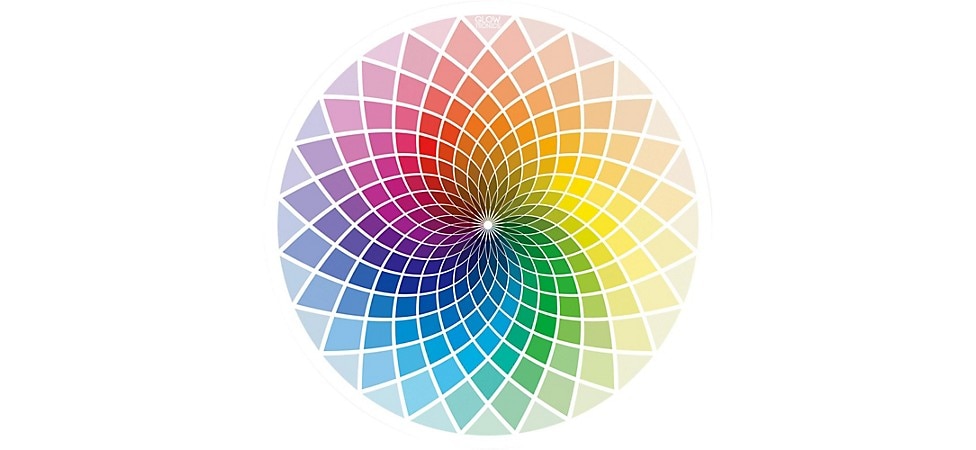 Explore more top-rated turntable products.
Sefour Vinyl Record Carry Box
Many DJs who spin vinyl could populate the stacks of a city library with their records. So, very few would turn down additional storage options, and fewer still would rebuff a storage solution they could also cart to gigs. The Sefour Carry Box holds 60 records, and a chrome handle makes hauling easy. Carry Boxes can be stacked, so if more music is needed for an all-night show, you can build a tower of LPs in the DJ booth.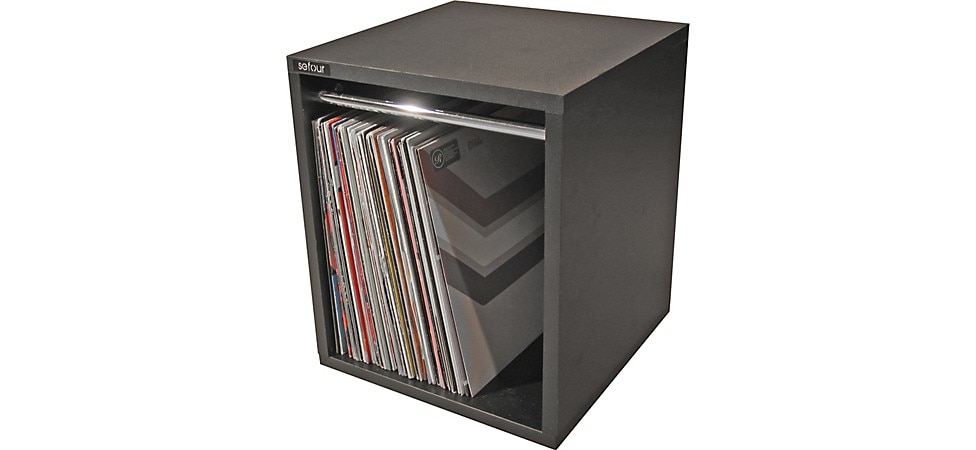 Explore more top-selling DJ accessories.
Gift Ideas for Producers and Home-Recording Musicians
Recording engineers and audio producers tirelessly hunt for the next piece of gear (or production idea) that will put their projects over the top. But even that situation doesn't mean the search for the right gift will be quick and effortless. Home-recording musicians can be selective and demanding, but here are three suggestions that even finicky producers should love.
Arturia KeyStep Limited
A keyboard isn't just for keyboard players. Many producers and recording engineers who can't even play "Chopsticks" use keyboards to control software and hardware synths, create sequences and add musical textures to everything from soundtracks to pop songs. The Arturia KeyStep is a 32-key sequencer/controller that can easily fit right next to a recording setup. While some non-keyboardists may stick to using the KeyStep to add strings, synth melodies and sound effects to a track, more adventurous types can dig into the sequencer, arpeggiator and Chord Play mode to expand the depth and impact of a musical work. This is a studio tool that can grow with a producer's creative vision.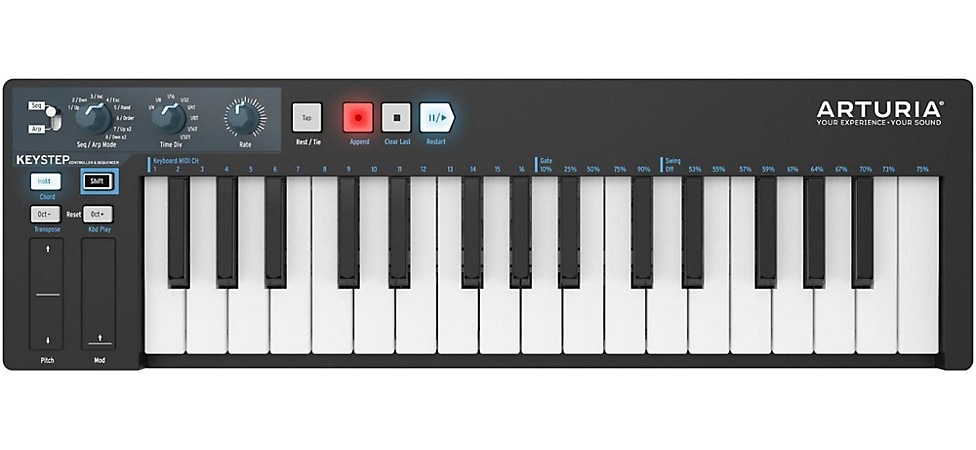 Explore more of the best keyboard controllers.
Shure SM57 Value Bundle
Even if a recording musician owns one hundred different microphones, they will always welcome another Shure SM57. These venerated mics have been used on kazillions of recordings and live stages through the years, and they remain primary choices for various instruments, amps, snares and drum toms today. Trust us, if your engineer/producer is gifted this bundle, they will always be able to find a use for the venerable SM57. You practically can't go wrong here.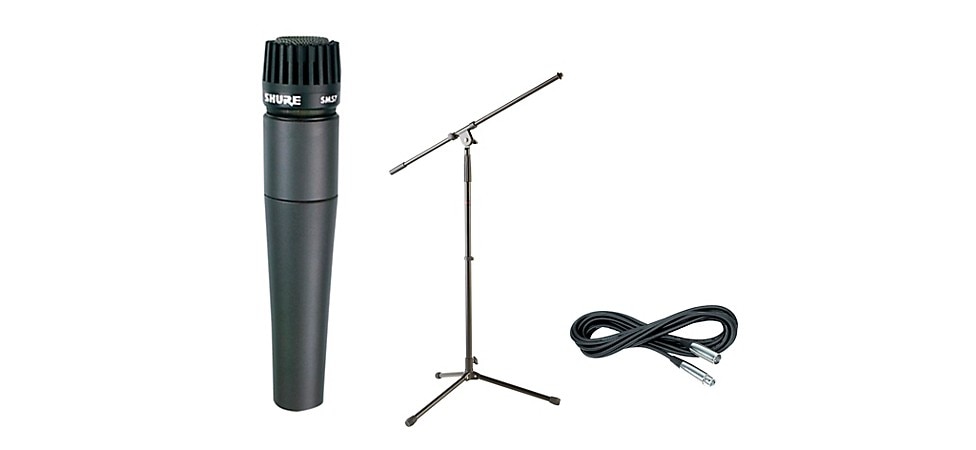 Explore more essential microphones.
Universal Audio Volt 1 and Volt 2 USB Audio Interfaces
To capture stunning sounds, it helps to have an audio interface that imparts character and vibe to input signals. Clean sounds are awesome, of course, but most of the vintage recordings we revere today were recorded with mic preamps that added some signature funk, texture and grit. The Universal Audio Volt interfaces—the Volt 1 offers one combo input (1/4" and XLR) and the Volt 2 provides two—feature an emulation of the Universal Audio 610 tube preamp that was introduced in 1958. This preamp has vintage vibe built into its DNA, as it was used to record classic tracks by countless artists—from Frank Sinatra and the Beach Boys to Van Halen and Adele. Sonics aside, the Volt interfaces are also one-stop shops for home-recording setups, as a DAW and several audio plug-ins are included with the unit. When you gift the interface, you're basically giving someone an entire studio.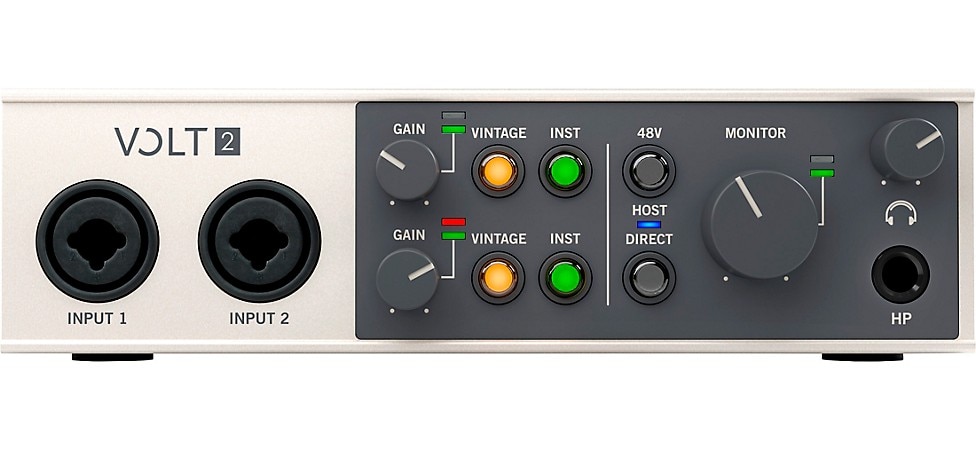 Explore more top-rated audio interfaces.
Gift Ideas for Gigging Musicians
For many players, the modern gigging life is all about easing transportation woes, downsizing the amount of gear that needs to be hauled to each venue, and making the rigors of the road more comfy. While Uber e-gift cards, Star Wars backpacks and fuzzy blankets aren't necessarily bad gifts for these working musicians, you can step it up a bit by taking the edge off their performance prep or stage routine. Consider one of these goodies to keep your gigger smiling from load in to load out.
Green Peak Wellness Vocal Eze
Even the most accomplished singers on the planet can lose an essential fan—their throats. Full-out, performance-level singing often takes a massive toll on vocal cords, and anyone who sings night after night is risking throat trouble. A squirt of Vocal Eze lubricates and soothes the throat with all-natural ingredients, such as aloe vera, ginger root, clover honey and echinacea. No alcohol is used in the formula as it dries the throat. Singers such as Joss Stone and Tim McGraw use Vocal Eze on stage and in the studio, and the spray also acts as an antiviral for immunity boosting, as well as a bronchial dilator that can increase lung capacity and oxygen intake. Get some for your favorite singer and they will think of you every time they reach for the bottle and those high notes.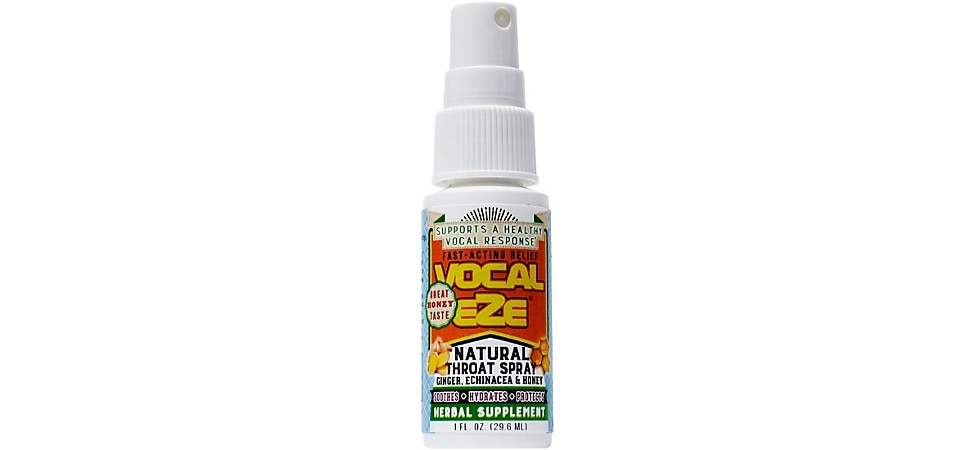 Explore more practice and performance aids.
Harper Trucks Steel Tough 700 Nylon Convertible Hand Truck
The Harper Trucks Convertible Hand Truck is a versatile transporter that can manage different equipment needs. For example, a show may require just a combo amp and a pedalboard, with a guitar or bass slung over a shoulder in a gig bag. That's a perfect situation for using the Convertible as a hand truck. Or perhaps access to the stage is super narrow, and the passage is also used to store cases of beer and broken-down PA equipment. You might feel more confident packing in your gear on a more maneuverable hand truck like this one. Got a big event booked where you'll need every piece of gear you can carry? Go horizontal and use the Convertible as a cart. As a bonus, the Convertible's nylon frame is as strong as steel, but 30-percent lighter for increased ease of movement.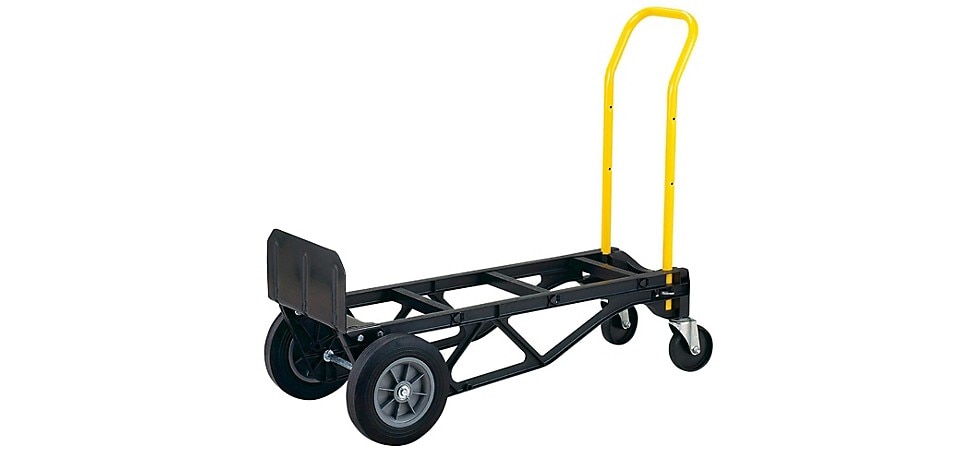 Explore more top-rated equipment carts.
Shure SE215 Dynamic Microdriver Earphones
More and more musicians are transitioning to in-ear monitoring systems, as they are seeking a more personalized method of hearing everything on stage, rather than the old-school method of blasting floor monitors at a band. The Shure SE215 earphones are excellent additions to an in-ear system, as they produce detailed sound reproduction (great for vocalists and instrumentalists), as well as enhanced bass response (an added boon for bassists and drummers). Sound isolation is critical for in-ear monitors—signal leakage into the ears from ambient stage and venue noise pretty much defeats the purpose of personalized monitoring—and the SE215 delivers up to 37dB of attenuation. A Fit Kit includes small, medium and large foam sleeves to accommodate a snug and comfortable match to most ears.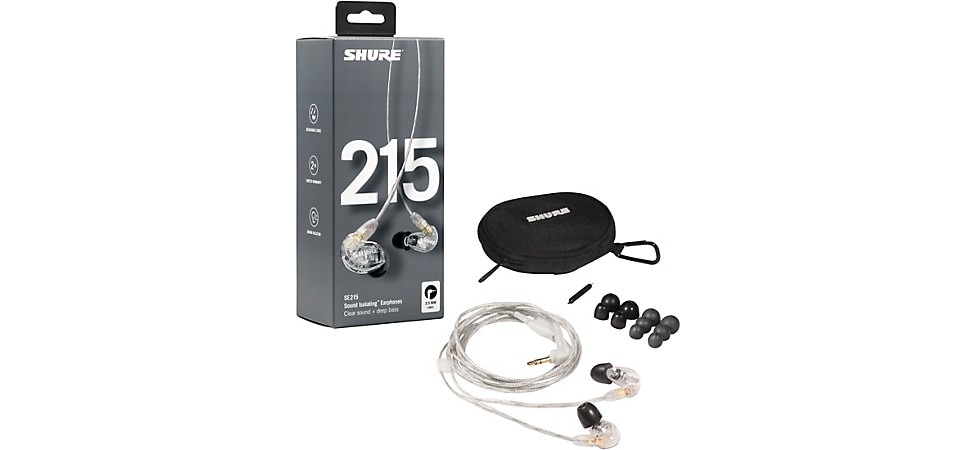 Explore more first-rate monitor earphones.
Gift Ideas for Music Lovers
We don't solely focus on gear for active musicians. We have products that would be wonderful gifts for all music lovers—regardless of whether they play an instrument as a hobby or stress relief, strum an air guitar whenever AC/DC appears in their streaming playlist or would rather listen to music than create it.
Bose QuietComfort 45 Headphones
Bose is one of the preeminent manufacturers of noise-canceling headphones, and the company's commitment to audio quality and comfort makes it practically a no-brainer gift selection. While the noise-canceling feature diminishes outside noise to put users into the full embrace of the music, they can also activate a safety-first Aware Mode to simultaneously hear the music and the environment. Smart stuff. Play time is 24 hours per charge, so you can rock out on long car trips and international flights.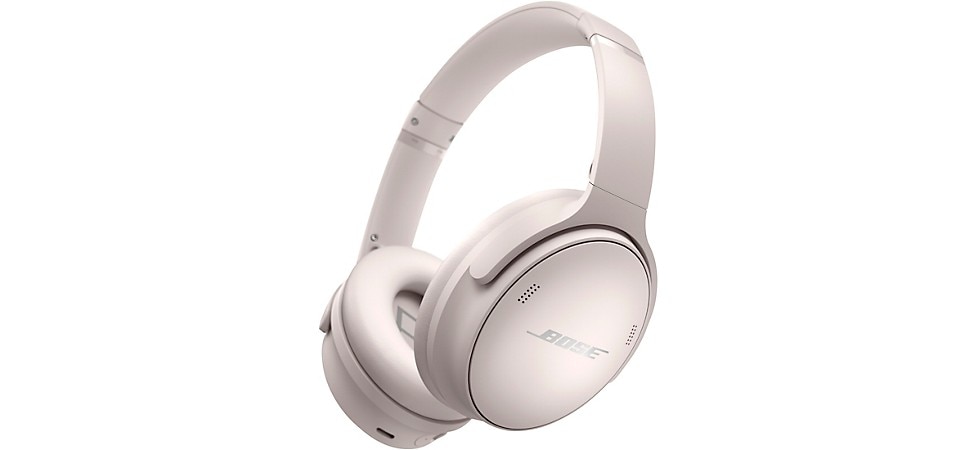 Explore more highly rated headphones.
Audio-Technica ATLP140XP Direct-Drive Turntable
Give your vinyl devotee a truly high-end turntable that was actually designed for pro DJs. The exceptional features include a rugged chassis, a mass-damped aluminum platter (that diminishes unwanted resonances and vibrations), a high-torque direct-drive motor, a DJ cartridge with a conical-bonded stylus (for exceptional output and audio quality) and an adjustable anti-skate control (for superior tracking and averting skipping).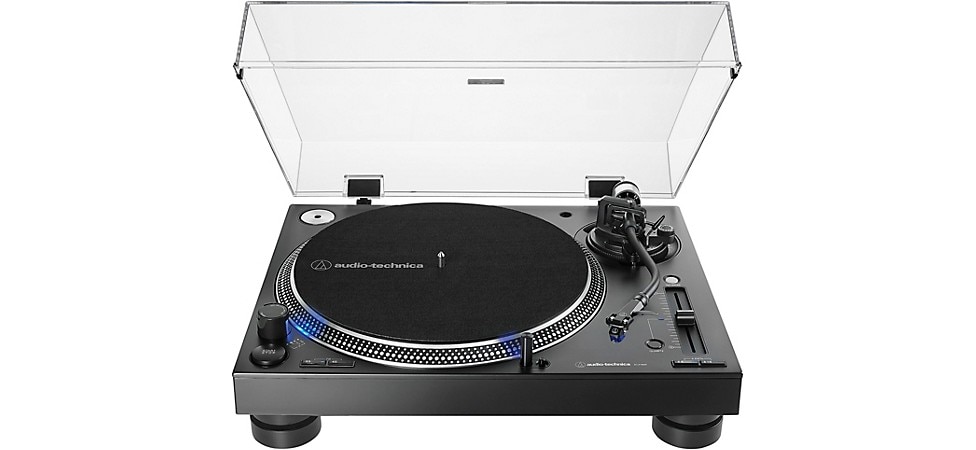 Explore more top-selling turntables and turntable accessories.
Sterling Audio MX3 Powered Studio Monitors
Want to give a music lover a transcendent listening experience? Gift them with the same type of speakers music creators use to produce the tracks they love. Powered studio monitors deliver transcendent and finely detailed audio so that musicians can critically evaluate sounds for recording and mixing. The Sterling Audio MX3 system is a matched pair of monitors designed to offer wide frequency dispersion (you can hear great sound even if you're not directly facing the speakers), reduced low-frequency turbulence and distortion (thanks to a rear port in the cabinet) and a natural, un-hyped frequency response. Listen like a pro.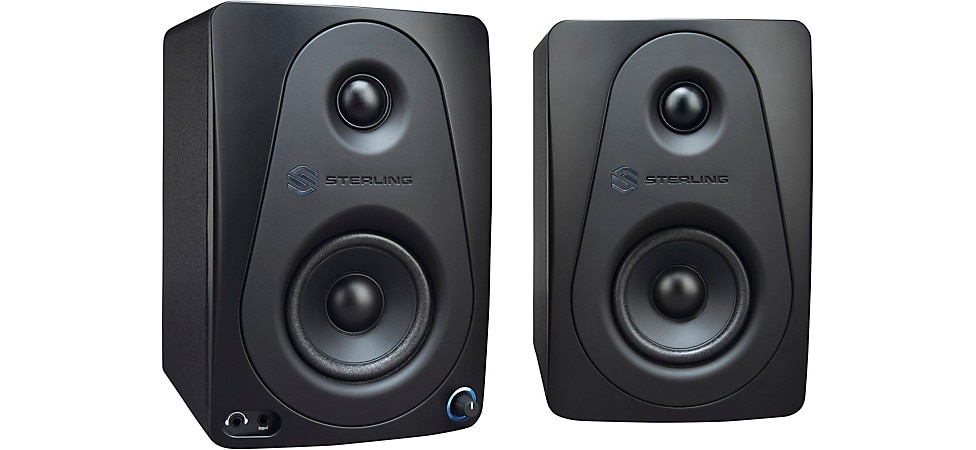 Explore more industry-leading studio monitors.
GAMAGO 45 Record Coasters
You can save a musician from throwing a boring, non-rock star party with a set of GAMAGO coasters designed like classic 45 rpm discs. The multi-colored coasters will add vibe to happy hours—or any hour—and make the statement that a true music fan is making the party happen. They come in a set of four.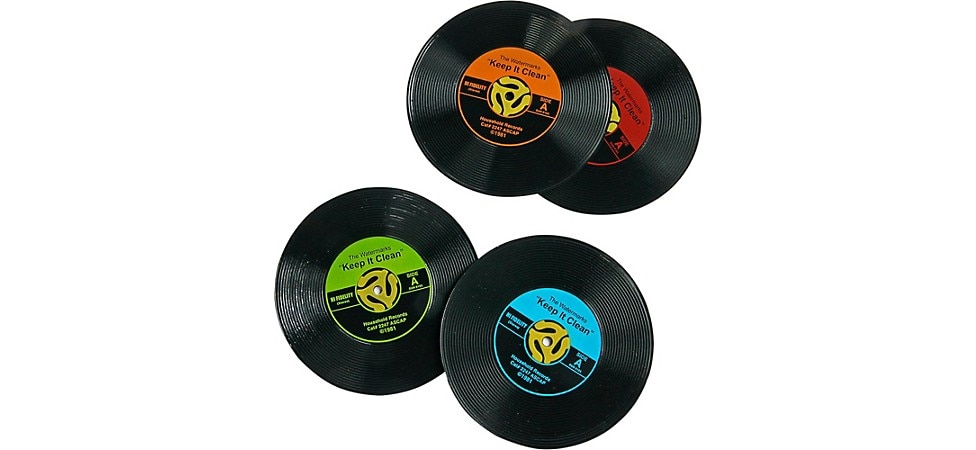 Explore more musician-approved home accessories.
Need More Hints, Help and Clues?
We've tried to make the task of gifting gear a little easier, but if you're still stumped or are simply looking for something different, you can contact one of our very knowledgeable Gear Advisers at 877-880-5907 to discuss other options with you. We'll make sure you find the perfect gift.